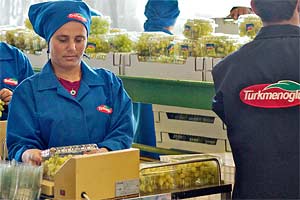 World famous sultanas
Within Good Agricultural Practices, Türkmenoğlu, by an organized quality control team and long-time experience, supplies the famous sultanas in such a safety and taste that they can be eaten as they're cut off the vine.
In contracted vineyards which are traced by Türkmenoğlu engineers and consultants, given the harvest decision following the sugarness value reaches over 16 Brix and chemical analysis reports are obtained.
Location
Türkmenoğlu sultanas are raised in premium vineyards in Alaşehir and Sarıgöl of Manisa, and Buldan of Denizli with controlled agricultural technologies.